From the Tennessean.com…
Metro police are looking for two robbers who got away with a trailer holding a valuable train set early this month.
South Precinct detectives say two men cut the chain on a trailer parked in the 4800 block of Briarwood Drive and attached it to their pickup truck. They drove off with the trailer about 2 p.m. on Jan. 7, taking with them a train set, large enough to carry passengers, that was built by the owner.
The truck was believed to be a Chevy Silverado, and the suspects were white men in their 20s with short hair and medium builds. Anyone with information is asked to call South Precinct detectives at 862-7763.
Looks like a 7 1/4″-7 1/2″ gauge live steam walking beam "puffer billy" with engineer's gon, flatcar and caboose, I'm sure the owner would greatly appreciate its return. I imagine the two sprites who made off with it were expecting a contractor's cache of tools inside the trailer and not this.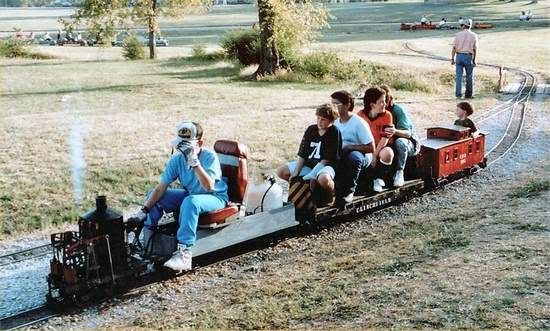 UPDATE: This may or may not be related, the locomotives shown bear no resemblance to each other…